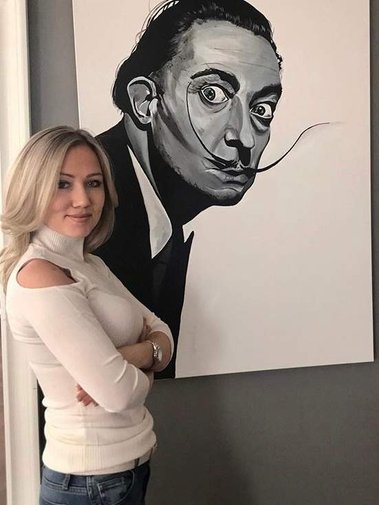 Tetyana Bibik
Tetyana Bibik, originally from Dnepropetrovsk, Ukraine, is a fine art painter with over 10 years professional experience working out of her studio in Toronto, Canada, where she currently resides. She specializes in large scale abstract artwork, pop art paintings, portraits, and creating custom commissioned artwork.
After receiving her BA in Business Management and Finance, she pursued the corporate world, working for top financial institutions, and large marketing organizations. However, her passion always triumphed, and in 2017 Tetyana left the corporate world to pursue her painting full time.
"It was the riskiest financial decision I ever made, but it is the only decision I have ever been 100% sure of. I have been painting since 6 years old growing up in Ukraine, from small drawings to teaching my cousins how to draw horses and trees. My passion continued into my teenage years, and into University, I never put the paint brush down. Painting came naturally to me, and I couldn't stop exploring new techniques, styles, and mediums. I have spent the last 10 years on perfecting my style which is now evident through all my artworks. I couldn't be more proud to be a full time Artist." - Tetyana Bibik

Tetyana's Artwork is now featured throughout Toronto restaurants, offices and homes. She uses the finest luxury materials to create all her pieces, including 24k Gold, Diamond Crystals, High Gloss Epoxy, Gallery Wrapped Canvases, and premium Oil and Acrylic Paints. Tetyana is strongly influenced by fashion, and interior design, and wants all her paintings to be just that. She creates artwork which is modern, elegant, and luxurious, something that will stand the test of time.
CONTACT THE ARTIST
For all general inquiries and custom commissioned artwork, pricing, and questions contact Tetyana Bibik via email:
FOLLOW @ARTBYTETYANA ON INSTAGRAM